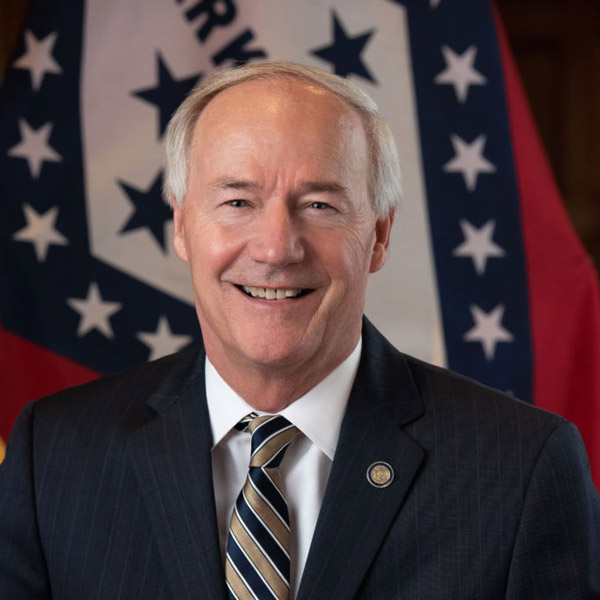 History of Firm:  Founder
(Governor Hutchinson does not currently practice law or have any ownership or financial interest in the Firm)
After a long career in the law and public service, Asa Hutchinson fulfilled his long-time dream to practice law with his son, Asa III, when the two founded The Asa Hutchinson Law Group, PLC in 2008.  Together they served clients from across the world for six years, until the elder Hutchinson was elected in 2014 as the 46th Governor of the State of Arkansas.  Governor Hutchinson was overwhelming re-elected in 2018 to a second four-year term with 65% of the popular vote, having received more votes than any other candidate for Governor in the State's 182-year history.  
Asa began his legal career in 1974 in private practice in Bentonville, Arkansas.  In 1982, at the age of 31, President Ronald Reagan appointed him as the youngest United States Attorney in the nation.  During his tenure, Asa personally negotiated the peaceful surrender of a heavily armed para-military organization to end its stand-off with the FBI, without a shot being fired and without any loss of the lives of men, women and children held in the besieged compound.  Asa was elected to the U.S. House of Representatives in 1996, where he served on the Judiciary and Intelligence Committees, among others.  As a result of his extensive trial experience, he was appointed by the House of Representatives to try the impeachment case against then-President Clinton in the United States Senate.  He received praise across the political spectrum for his reasoned and professional presentation.
After being elected to his third term in Congress, Asa was appointed by President George W. Bush as Administrator of the Drug Enforcement Administration (DEA) in 2001, where he combined tough law enforcement initiatives with advocating increased investment in treatment and education programs.
In January 2003, Asa was confirmed by the U.S. Senate to be the first Under Secretary of the newly created Department of Homeland Security.  As one of the nation's top-ranking homeland security officials, Asa was responsible for more than 110,000 federal employees housed in such agencies as the Transportation Security Administration, Customs and Border Protection, Immigration and Customs Enforcement (now USCIS) and the Federal Law Enforcement Training Center.  Asa resigned in 2005 and subsequently joined the Venable LLP law firm in Washington, DC as a Senior Trial Counsel and a partner within Venable's Litigation Division.
Governor Hutchinson's experience has established him as a national resource for his expertise on trade, energy, national security, and education.  He has been invited to the White House several times to join discussions about health care, Medicaid and education issues. The Governor currently serves as the co-chair of the Council of Governors and is the former chairman of the Interstate Oil and Gas Compact Commission, Southern States Energy Board, and the Southern Regional Educational Board. 
Education
J.D., University of Arkansas School of Law, 1975
B.S., Accounting, Bob Jones University, 1972
Bar Admissions
Arkansas

District of Columbia

U.S. Supreme Court

U.S. Court of Appeals for the Eighth Circuit

U.S. Court of Appeals for the Fifth Circuit

U.S. District Court for the Western and Eastern Districts of Arkansas
Government Service
Bentonville (Arkansas) City Attorney

U.S. Attorney for the Western District of Arkansas

Member of the U.S. House of Representatives, Third District of Arkansas

Administrator, U.S. Drug Enforcement Administration

Under Secretary, U.S. Department of Homeland Security

Governor of Arkansas, 2015 – Present